Kristi Eckert Promoted To Managing Editor At TELL ME BEST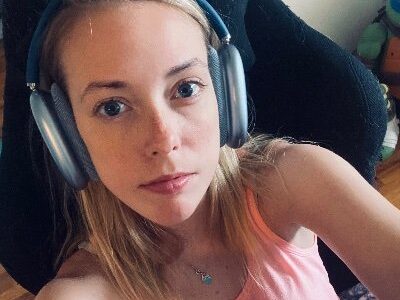 When Kristi first arrived on the Walk Big scene, it was as a Contributing Writer for GIANT FREAKIN ROBOT. Kristi had just graduated college in impressive fashion – Summa Cum Laude and a bachelor's degree in Public and Professional writing – and was looking to use what she learned. She found it quickly when her partner, Wil, saw that GFR was looking for writers to help with their growing audience.
Kristi's talent was on immediate display, which brought her a permanent staff writer position that quickly turned into becoming TELL ME BEST's Deputy Editor. Now, less than a year later, Kristi's talents have moved her upward and onward to TMBs Managing editor. So, what's the difference between the two?
"As a Deputy Editor, my role was largely focused on guiding my team and having my pulse directly on what consumers care about in order to curate TMB's expansive body newsworthy content, many of which I directly reported on as Deputy Editor," Kristi explains. "As a Managing Editor, my duties have expanded outward to coordinating with my writers and editors and serving as their primary resource to make sure the site keeps churning out the content our readers our itching for, in addition to handling all the day-to-day logistics that go along with running a busy publication."
What makes Kristi's journey from Contributing Writer to Managing Editor more impressive is the simple fact that as TELL ME BEST was looking for its "voice," Kristi was growing along with it and helping lead the way to what TMB is today.
"When I hopped over from GFR to TMB as Team Editor the site was still trying to find its voice. Now the site has blossomed to become a premier source for consumers looking to keep up with what's happening with their favorite retailers and a repertoire of knowledge-based articles geared toward providing information to enhance a reader's lifestyle. From tech to housing to the latest store closures, Tell Me Best tells its readers not only what they need to know, but also delivers what they want to know, too."
You can count Drew Dietsch, Walk Big's Chief Content Officer, as one who is firmly in Kristi's corner. "I've been eager to see Kristi become Managing Editor of Tell Me Best," Drew confesses. "She has been such an invaluable part of the Tell Me Best team thanks to her dedication, creativity, and delightful personality. I can't think of anyone better suited for the job."
Of course, it all comes back to the writing, which Kristi claims is her core being. But taking on bigger responsibilities as TMBs new Managing Editor, unfortunately, puts the writing portion on the back burner, so to speak. "Since a big part of my job involves helping my talented team to grow and level up their skills and reporting prowess and coordinating with them to ensure that happens, writing daily is less a part of my day-to-day."
Dietsch also knows that Kristi's ability to adapt is one of her many strengths. "Kristi is always willing to adapt to whatever challenges come at her. Thanks to this, she is able to realign strategies and properly implement whatever changes are needed to ensure the continued success of Walk Big endeavors. As such, she continues to prove herself a crucial member of our organization."
Thankfully, it doesn't mean as TMBs new Managing Editor that Kristi has stepped completely away from writing. It is a creative outlet that will never go away. "At my core, I am a writer and will purposely seek out topics that strike a chord with me so that I can continue to scratch that intrinsic itch." TMB is thankful and in great hands now that they have the dual threat that is Kristi Eckert as Managing Editor.
Congratulations, Kristi!